The capital city of Minnesota is St. Paul. Learn about the Minnesota state government's agencies, services, and operations. Read about living and working in the North Star State, and find Minnesota travel and tourism information.
www.state.mn.us/
Minnesota is the 14th largest state in the USA, bordered by Wisconsin, North Dakota, South Dakota, Lake Superior, and the Canadian Provinces of Ontario and Manitoba. This site includes several maps of Minnesota.
www.minnesota-map.org/
UM is the Land-Grant University for the State of Minnesota. It is also a major research institution. It was founded in 1851 and has four campuses, the Twin Cities being the largest. There are over 51,000 students.
www1.umn.edu/
Learn about Minneapolis city government operations and departments at the official City of Minneapolis web site. Find a variety of services for Minneapolis residents, businesses, and visitors.
www.ci.minneapolis.mn.us/
Iowa is the 23rd largest state in the United States, bordered by Minnesota, Missouri, Wisconsin, Illinois, South Dakota, and Nebraska. Visit this site to learn more, and find printable maps of Iowa.
www.iowa-map.org/
North Dakota is the 17th largest USA state, bordered by South Dakota, Minnesota, Montana, and the Canadian Provinces of Manitoba and Saskatchewan. Visit this site to find printable maps of North Dakota.
www.north-dakota-map.org/
South Dakota is the 16th largest USA state, bordered by North Dakota, Nebraska, Minnesota, Iowa, Montana, and Wyoming. Visit this site to learn more about South Dakota and find printable maps of the state.
www.south-dakota-map.org/
Wisconsin is the 25th largest USA state, bounded by Lake Superior to the north, Illinois to the south, Minnesota and Iowa to the west, and Lake Michigan and the state of Michigan to the east.
www.wisconsin-map.org/
The Mayo Clinic is a not-for-profit medical practice dedicated to the diagnosis and treatment of virtually every type of illness. Their three locations are in Minnesota, Florida, and Arizona.
www.mayoclinic.com/
Target opened its first store in 1962 in Roseville, Minnesota. Today there are approximately 1500 stores in 47 states, including 175 super stores that have grocery departments. Target.
www.target.com/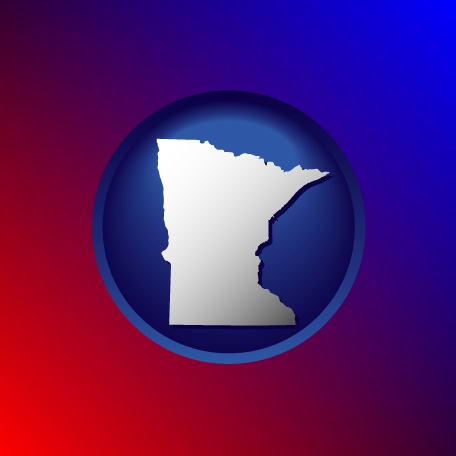 Minnesota Icon in Blue and Red Gradient
---
Copyright © 2022 LinkTags.org.
All rights reserved.