Low cost airlines have made it easier for more people to take advantage of air travel. Since the year 2000, low-cost airlines have become the norm, offering no-frills service to popular destinations.
www.lowairfares.us/
This website is primarily a place to find the best deals in air travel and book flights, but it also is a site where users can make hotel and car reservations, and get tickets for live events.
www.cheaptickets.com/
On this site, users can look up flights, purchase tickets, book hotels, plan vacations and cruises, check on frequent flyer mileage, and much more.
www.aa.com/
Aer Lingus was founded in 1936 by the Irish government to provide air service to and from Ireland. The airline flies to North America, the Middle East, the UK, and Continental Europe.
www.aerlingus.com/
This website, in English and French, is the for the airline Air Canada, the 14th largest commercial airline in the world. Air Canada serves over 32 million customers on five continents annually.
www.aircanada.com/
This is the website for Air France where users can book flights, check flight statuses, find out about travel restrictions, check on AF special deals, and sign up for a free newsletter.
www.airfrance.com/
AirTran is a low-fare airline designed for business travelers. It was founded in 1993 and launched the first ticketless travel that year. Its headquarters are in Orlando, Florida.
www.airtran.com/
The website for Alaska Airlines which serves more than 90 cities in the U.S., Canada, and Mexico. On the site users can book flights, hotels, rent cars, and find out about special AA deals.
www.alaskaair.com/
This travel website features low airline flight fares. Users can search for flights by city or airport. Users can also reserve rental cars and hotels.
www.cheapoair.com/
Continental, located in Houston, Texas, traces its beginnings to 1934. It flies all over the U.S. and around the world.
www.continental.com/
Delta Airlines and its affiliates offer more 479 destinations in 105 locations.
www.delta.com/
EasyJet, incorporated in 1995, offers low-cost flights within Europe. The Airline is based at Luton airport in England, which is one of several ways they keep the costs down.
www.easyjet.com/
This is the website for the San Francisco International Airport. On it, users can find information about incoming and departing flights, airport maps, ground transportation, driving directions, security, parking, and more.
www.flysfo.com/
This is the website for KLM, whose home base is Schiphol Airport, is partnered with Air France to fly to 250 destinations worldwide. Users can book flights, cars, and hotels on the website and also check flight information and schedules.
www.klm.com/
Ryan Air, an economy airline that was established in 1985, flies to destinations in Europe and the UK.
www.ryanair.com/
This is the website for Southwest Airlines which was founded in 1971. It began by flying three Boeing 737s to three Texas cities. Today it operates more than 3,300 flights a day, coast to coast.
www.southwest.com/
Supershuttle is a shared-ride airport shuttle, providing door-to-door ground transportation to more than 8 million passengers per year. Users can make a reservation online for one-way or round trip from the airport in 19 major U.S. airports.
www.supershuttle.com/
United operates more than 3,600 flights per day to more than 210 U.S. domestic destinations and international sites. On this website, users can find and book flights with no booking fee.
www.unitedairlines.com/
This is the official website for US Airways where travelers can book flights and find out about US Airways travel destinations. The Airline flies to cities all over the U.S. and abroad.
www.usairways.com/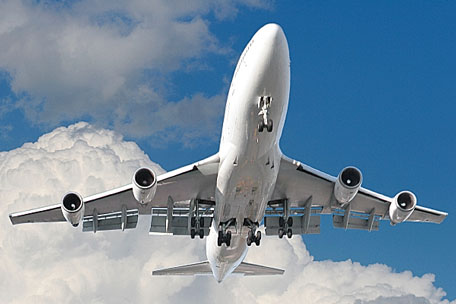 Jet Airplane Ascending
---